Under ground protection is the safest place in a storm. – F.E.M.A.
When underground protection cannot be achieved then an above ground safe room is the next best thing. Although an above ground steel safe room is not as safe, in a tornado, as an in-ground Storm Shield Tornado Shelter, it is better to have some protection then to have none at all.
If you do not have a yard or much of one, then installing a Storm Shield Steel Safety Shelter in your home or garage is the way to go.
Call your local representative for information.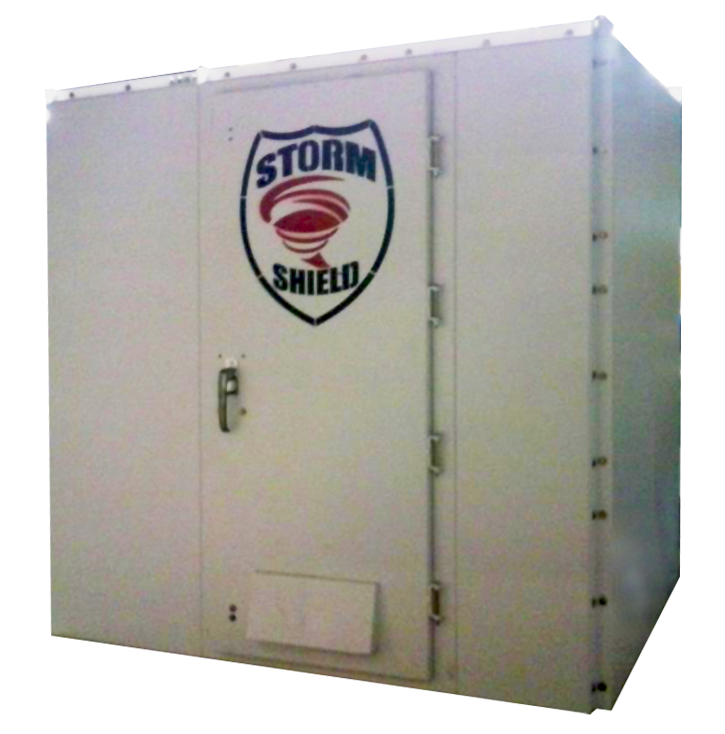 Easy to install Steel Above Ground Safe Room designed to meet FEMA-320 & ICC-500 Guidelines for tornado, hurricane, & high wind protection.
Seating Capacity: Your choice of sizes starting at room for 4 Adults
Compliant Ventilation for 8 occupants per FEMA-320 Residential
Weight:  lbs.
Depth: Your choice in 2ft increments.
Width 6′ 2″
Height 6′ 4″
Depth: Varies by 2′ 2″
Width 6′ 6″
Height 6′ 6″
Easy 'Do It Yourself' 'Bolt Together Construcion
Installs in 3 to 4 hours by 2 adults
Safety Lock 
3 Point Latching Device and Hinge
Well Ventilated Compartment 
Complete Composite Anchoring System w/ 3/8 inch wedge anchors